Previously branded as Innova, now changed to Ascaso

Ascaso Dream Versatile UK Espresso Machine
Free UK Delivery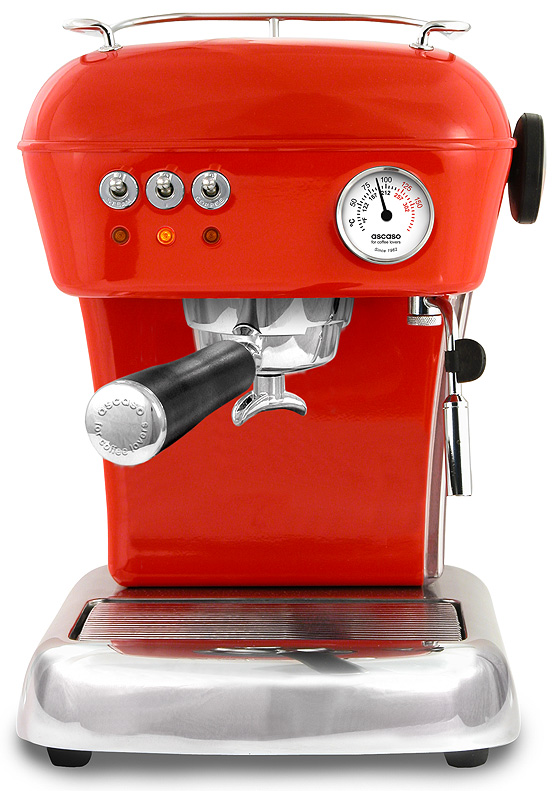 Ascaso's range of stunning retro design machines in different colours. The DREAM by Innova / Ascaso is a solid, pump operated espresso & cappuccino machine.
The filter holder is made of brass and has a large diameter, ensuring great extraction. Easy to remove drip tray and water tank make the machine easy to keep clean.
The optional
Innova Ascaso burr grinder
comes in matching colours.
This exciting (Innova) Ascaso Dream Versatile range is a mix of style, fun with a retro twist and quality parts. All the innova range having powerful 16 bar pumps these will deliver in all areas. Ascaso (Formerly Called Innova) are a spanish espresso maker company.
Specifications

- 3 Way Solenoid Valve
- Brass filter holder
- 16 Bar Pump
- 100% Aluminium Body
- 3 Year Manufacturer Guarantee
- Removable water tank 1.3 litre
- Cup warmer/holder
- Powerful steam wand for steaming and foaming
- Removable drip tray
- Hot water outlet for hot chocolate and tea
- Use ground coffee or espresso PODs or Pads

- Power 1000W
- Voltage 230V
- Cup Clearance 7cm / 2.75"
- Dimensions(cm) 24.5 W | 34.5 H | 28 D

Available Following Finishes: Black, Blue, Green, Anthracite Grey, Red, Cream, Orange, Yellow, White, Cow and Polished. Strawberry Gum, Fresh Pistachio, Intense Violet.

Prices include FREE UK Delivery by 24 Hour or 48 Hour Courier.
Orders are normally dispatched within 24 hours of ordering, if you specifically require it by a certain date let us know on the order page in the 'latest delivery date' box.


---