Jura


Francis Francis!

Bodum
Granos £299


Ascaso

ascaso / innova dream
dream aluminium
dream colours
15 different colour finishes!

ascaso / innova grinders
innova i2 grinder
available in matching colours & aluminum.

ascaso / innova arc fun
innova arc fun
colours: yellow, kid blue, baby pink, black.

All items above are fully in stock - order online.

Items below are coming soon, call 0870 2074831 for details or to order!

innova arc s'steel £370
innova elipse
innova elipse aluminium £370
innova elipse black £270


Gaggia


DeLonghi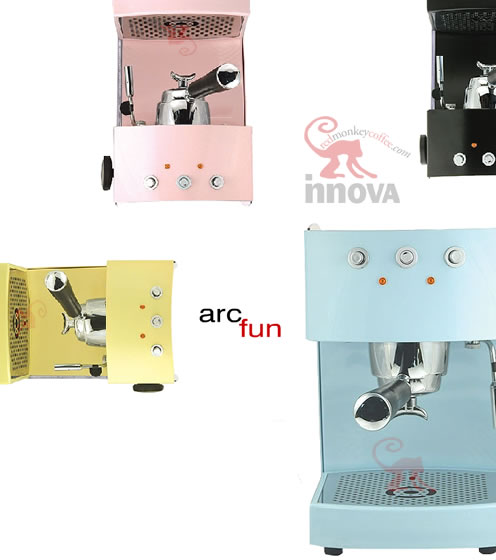 Ascaso (Formerly Innova) UK - Arc Fun Versatile Espresso Machines
RRP £289 Red Monkey Special 5% Cashback refunded to your card when paying with a debit card


A compact size machine from Ascaso, with a more modern design, available in fun colours. The machines perform well featuring a 16 Bar pump, brass filter holder which can be used with both loose ground coffee and espresso E.S.E PODs and Pads.

At Red Monkey Coffee we love these little machines, clean classic designs, great colours and well priced. If the retro Dream is not for you then the Arc Fun designs should appeal.

Specifications

- Brass Boiler & Filter Holder (ø 58mm)
- Pump Pressure 16 Bar
- Body made of Metal
- Coffee Thermostat 105º
- Steam Thermostat 140º
- Safety Thermofuse
- Steam Pipe Protector
- Removable water tank 2 litres
- Cup warmer/holder
- Powerful milk steaming wand
- Removable drip tray
- Hot water outlet for hot chocolate & tea
- Doser Spoon 7g
- Use loose ground coffee & PODs & pads



- Power 1000 Watts
- Voltage 230V
- Weight 6.5 Kg
- Dimensions(cm) 22 W | 32 H | 28 D


Available in 5 Finishes: Red, Light Blue, Light Pink, Light Yellow, Black
Red £289 not shown please call or email
Ascaso Arc Versatile Black & Inox and Dark Black £289 not shown please call or email
Ascaso Basic Versatile Cloud White and Dark Black £239.95 not shown please call or email

Free 227g Bag of Red Monkey Coffee's Fresh Roasted Gourmet Espresso Coffee worth £5.99 with every machine.
5% Cashback refunded to your card when paying with a debit card

Prices include FREE UK Delivery by 24 Hour or 48 Hour Courier.
Orders are normally dispatched within 24 hours of ordering, if you specifically require it by a certain date let us know on the order page in the 'latest delivery date' box.

---
Click the photos to view a larger photo in a new window.