Bodum UK - Granos Pump Espresso Machine
New Edition in "iPOD Style" White

£295


OUT OF STOCK INDEFINITELY
SEE OTHER GRANOS CLICK HERE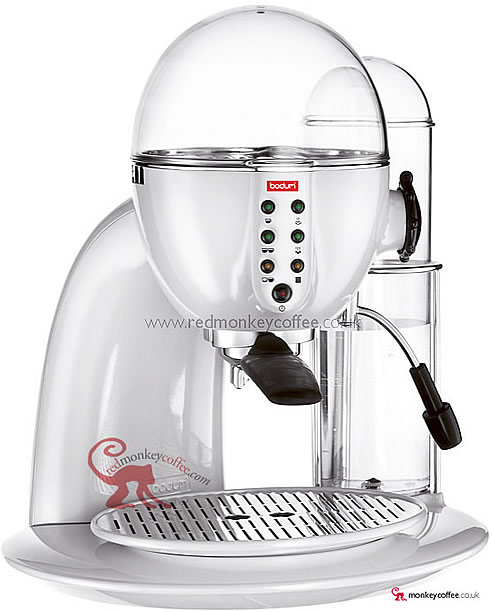 Granos Voted "BEST BUY" September 2005 by Which? Magazine'
s Espresso Coffee Makers tests. Out of 19 best-selling models from the leading brands it came up tops.
Prices include FREE UK Delivery by 24 Hour or 48 Hour Courier.
Orders are normally dispatched within 24 hours of ordering, if you specifically require it by a certain date let us know on the order page in the 'latest delivery date' box.

BODUM's 50 years in coffee brewing has culminated in a pump espresso machine that combines beauty and functionality. After all, making great espresso requires a great machine. Fully programmable, the Espresso Granos guarantees café quality espresso, with its signature crema, in every cup. Fully programmable. Works with ground coffee or Red Monkey Coffee.Com espresso pods. The unique water system expels used water rather than letting it flow back into the fresh water reservoir.

Red Monkey Coffee Opinion Bodum Granos UK: This new machine from Bodum, the Granos was launched August 2004, it is a superb machine both in looks and function. The machine now comes in a stylish iPOD clean white finish, great build quality and design. Bodum are becoming more design orientated and this is another winner. The ability to use water bottles is great, the looks will work in the modern and traditional kitchen. The machine produces great espresso and crema, a excellently designed quality espresso machine, highly recommened.