Jura


Francis Francis!

Bodum
Granos £299


Ascaso

ascaso / innova dream
dream aluminium
dream colours
15 different colour finishes!

ascaso / innova grinders
innova i2 grinder
available in matching colours & aluminum.

ascaso / innova arc fun
innova arc fun
colours: yellow, kid blue, baby pink, black.

All items above are fully in stock - order online.

Items below are coming soon, call 0870 2074831 for details or to order!

innova arc s'steel £370
innova elipse
innova elipse aluminium £370
innova elipse black £270


Gaggia


DeLonghi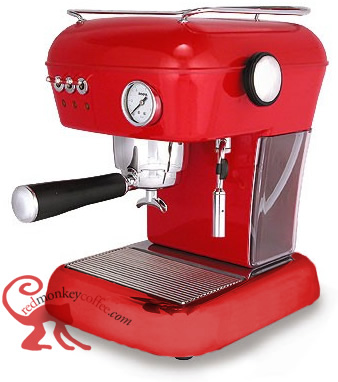 NEW range of stunning retro design machines in colours. The DREAM by INNOVA is a solid, pump operated espresso & cappuccino machine.
The filter holder is made of brass and has a large diameter, ensuring great extraction. Easy to remove drip tray and water tank make the machine easy to keep clean.
The optional
INNOVA burr grinder
comes in matching colours.
This exciting new Innova Dream range is a mix of style, fun with a retro twist and quality parts. All the innova range having powerful 16 bar pumps these will deliver in all areas. Innova are a spanish espresso maker company recently introducing it's machines into the UK, a welcomed addition.
Specifications

- Brass boiler
- Removable water tank 1.3 litre
- Cup warmer/holder
- Powerful steam wand for steaming and foaming
- Removable drip tray
- Hot water outlet for hot chocolate and tea
- Use ground coffee or espresso PODs
- Power 1000W
- Voltage 230V
- Dimensions(cm) 24.5 W | 34.5 H | 28 D

Available in 8 Finishes: Red Monkey Red (Shown Above), Kid Blue, Baby Pink, Mandarin Orange, Mediterranean Blue, Night Black, White & Polished Aluminium (£470) Colours not shown: Cream, Ladybird, Cow Print all available call 0870 207 4831 to order.

Free 250g Bag of Red Monkey Coffee - Own Fresh Roasted Gourmet Mediterranean Mocha Espresso Coffee worth £4.99

---
Prices include FREE UK Delivery by 24 Hour or 48 Hour Courier.
Orders are normally dispatched within 24 hours of ordering, if you specifically require it by a certain date let us know on the order page in the 'latest delivery date' box.