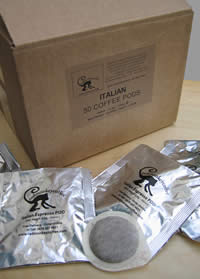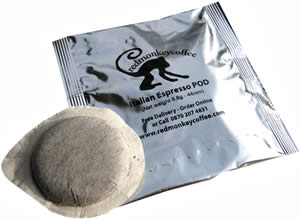 Note PODs are now Espressionie PODs, different design on packs.
Espressionie PODs

The pod system offers remarkable convenience, no need for grinders, perfect portion control, no mess, and cleaning. Maximum consistency, the PODs are encapsulated in paper to the optimum tamping pressure for the same perfect espresso every time. Note PODs are now Espressionie PODs, not as in picture.





All PODs are individually sealed in an oxygen free laminate pouch. The PODs can only be used in E.S.E machines which except PODs like the Francis Francis machines and most of the Gaggia machines.




• made up of 100% high quality Arabica coffees
• Available in Arabica Espresso, Dark Italian Espresso or Decaffeinated
• Size 44mm pods, 6.8g weight, Fine grind For espresso pod, ESE or pod adapted machines.